Chicken and Okra Creole
This Cajun-inspired dish makes a great one-dish meal. It's packed with tons of flavor, fast to make, and even faster to clean up. Only one skillet required. Canola oil aids in browning and tenderizing the chicken, plus blends the flavors of other ingredients.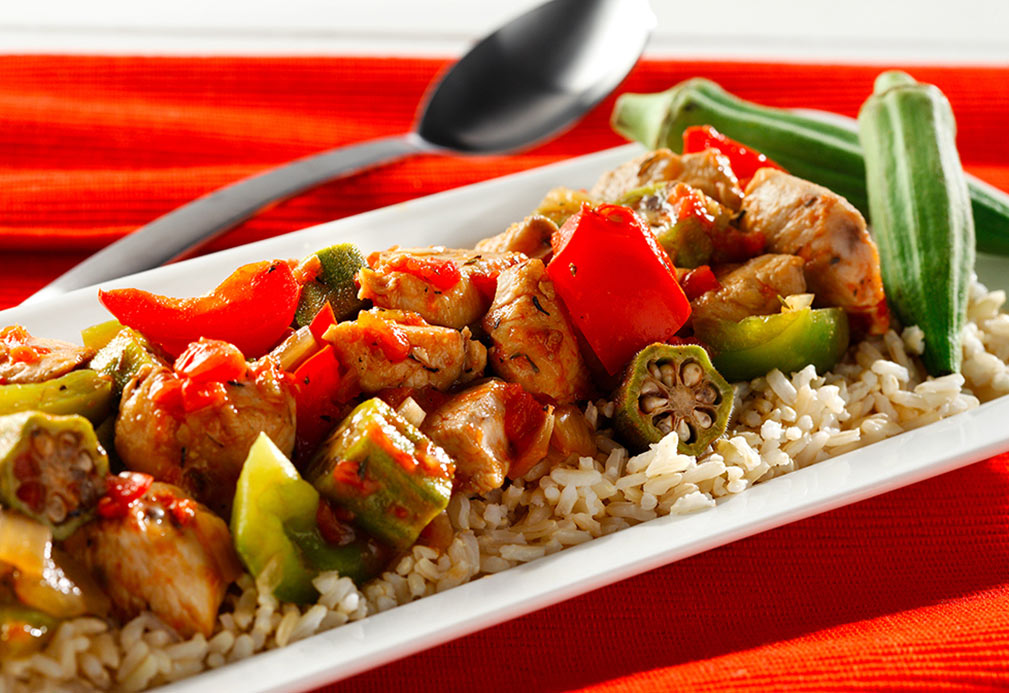 Ingredients
2 Tbsp canola oil 30 mL
12 oz boneless, skinless chicken breast meat, cut into bite-size pieces 350 g
1 cup diced onions 250 mL
1 medium green bell pepper, seeded and cut into 1-inch (2.5 cm) pieces
1 medium red bell pepper, seeded and cut into 1-inch (2.5 cm) pieces
2 medium garlic cloves, minced
6 oz fresh or frozen and thawed okra, cut into 1/2-inch (1 cm) slices 170 g
1 can (14.5 oz/428 mL) no-salt- added stewed tomatoes
1 1/2 tsp dried thyme leaves 7 mL
1/4 cup finely chopped parsley or green onion 60 mL
2 tsp Louisiana hot sauce 10 mL
1/2 tsp salt 2 mL
2 cups cooked brown rice 500 mL
Instructions
1. In a large skillet, heat 1 Tbsp (15 mL) canola oil over medium-high heat. Cook chicken 3 minutes or until slightly pink in center, stirring occasionally. Set aside on separate plate.
2. Heat remaining 1 Tbsp (15 mL) canola oil and cook onions and peppers for 4 minutes or until vegetables begin to lightly brown on edges. Stir in garlic and cook 15 seconds, stirring constantly. Stir in okra, tomatoes, thyme, and chicken. Bring to a boil over medium-high heat. Reduce heat to medium-low, cover and simmer 20 minutes or until vegetables are just tender. Remove from heat.
3. Stir in parsley, hot sauce and salt. Cover and let stand 5 minutes to absorb flavors.
4. Meanwhile, prepare rice according to package directions. Serve the chicken mixture over rice.
Yield
4 servings.
serving size
1¼ cups (310 mL) chicken mixture and 1/2 cup (125 mL) cooked rice per serving
nutritional analysis
Per Serving
| | |
| --- | --- |
| Calories | 340 |